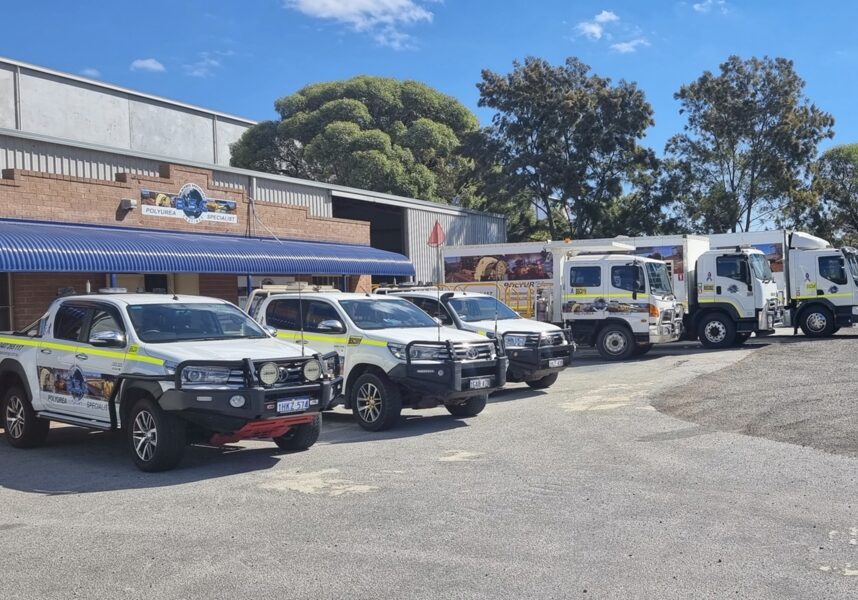 Blackbee Specialist Coatings
Why you should choose BSC for your next polyurea coating project
The leading expert applicators in Australian mining since 2006.
Access to the best polyurea coating formulations for each project.
Modern fleet of well-equipped coating trucks and relocatable containers.
In-house NACE certified polyurea coating inspectors.
Full QA processes.
Excellent safety and performance record.
We understand what our customers need, and we deliver on time, on budget.
Expert Solutions for Mineral Processing
Virtually any item of mineral processing equipment can be coated, lined, protected or refurbished with fast curing, flexible and tough polyurea.
Polyurea Coating System –
the Ultimate Protection for Mining Assets
• Abrasion
• Corrosion
• Chemicals
• Movement
• Temperature Variations
• Expensive downtime
• Short shutdowns
• Dangerous conditions
The Answer:
Nukote Polyurea from BSC
100% proven in hundreds of mining applications
Good abrasion and chemical resistance
Build-up multiple millimetres in one application
Low water permeability
No primer – just blast, then spray
Fast application
Return to service within hours
Fast cure at all temperatures
Special formulations for extreme conditions
No solvents or VOCs
This is What Our Satisfied Customers are Saying
"I would like to say a true and honest thank you to the Supervision
and Work Crew from both Blackbee Specialist Coatings (and another named company). Over the five months that I have been working with these two companies, both have stepped up to the plate whenever our Newcrest requirements have changed and done so in a safe, functional and accommodatingly helpful fashion. Through this period we have been incident free and come up with improvement on how to do some of our tasks. Housekeeping has been of a high standard, in turn showing their standard of work. They have been a breeze to work with and I hope to continue this into the future.
Genuinely THANK YOU and I hope that one day I will be able to shout you all a pizza or a bbq."
Major Maintenance Supervisor – Newcrest Mining
A great job done by the Blackbee team.
Excellent work ethic and focus on quality.
 Looking forward to seeing you all next year for the next tank.
Kind regards,
 Giles
Giles Harrison - Principal Corrosion Consultant
Thank you, to Willy Blackbee and the Blackbee Coatings team. Over the years, that I/RPM have had works carried out with them. It always comes, with great customer service and quality of work.  Inclusive is technical coatings knowledge and support. That has assisted greatly, in delivering for my clients and RPM the very best of outcomes with equipment protection. Anyone reading this, should view Blackbee Coatings as an "Asset" to their service requirements.
Nick Roso, RPM
Willy Blackbee is probably the best poly spray tech around, at least the best I have seen. Now he runs his own operation. If this team follows his lead, their future is bright indeed."
Michael Osborne – President, Nukote Coating Systems International
Contact us today for information on how BSC can protect your assets
We have worked everywhere – from the smallest to the largest mineral processing companies
Northern Star Mining - Carosue Dam
Northern Star Mining - KCGM
Karara Mining
Norton Gold Fields - Paddington
Newcrest Mining - Telfer
Gold Fields – Gruyere
Rio Tinto – Dampier
IGO - Nova
Companies we work with include
Diab Engineering
Schenck Process Australia Pty Ltd
Reliable Process Maintenance
All Rubber TMH Pty Ltd
Aurizon Operations Ltd
CPC Goldfields Pty Ltd
UHP Solutions (WA) Pty Ltd
RCA Civil Group Pty Ltd
United Industrial Solutions
Impact Wear Protection
Northern Star (Carosue Dam) Pty Ltd
Karara Mining Ltd
Paddington Gold Pty Ltd
Gruyere Management Pty Ltd
IGO Nova Pty Ltd
Kalgoorlie Consolidated Gold Mines Pty Ltd
Newcrest Operations Limited